The initial goal of every media relations strategy is to earn media coverage, whether it's for  news announcements, trend jacking, thought leadership, etc. No matter your approach, the process is typically made up of some assortment of pitch development, reporter targeting, building rapport with reporters, sending assets back and forth, finally having a reporter agree to an interview, scheduling that interview, actually conducting that interview, addressing follow up questions … all before the story is even written, nevermind published.
There's a lot that goes into getting one media opportunity, so when it does happen, it should be celebrated. It typically takes a team effort to land one media placement, but too often, once that asset so many people worked so hard to get is published, that's the end of it. Sure, there's an initial rush of excitement, but it, along with the news cycle, moves on. It's on to the next, when instead, organizations should be maximizing the exposure of that placement, which took so much work and effort. 
The goal should be to have your feature reach as many eyeballs as possible, and most times, we can use quick and easy tactics to ensure mass exposure. But a media relations strategy should be more than just links – they are fodder for other sales and marketing opportunities that can positively impact your bottom line.
Social Media
At the absolute minimum, organizations should be sharing their earned media placements across their social platforms. The organization's industry and customer make-up will help you decide which platforms to prioritize, whether that's LinkedIn, Twitter, Facebook or even Reddit. Likely it'll be a mix of all, with a focus on one or two. 
When sharing, avoid using the same, templated format that makes the account come off as preplanned and rigid. Don't copy and paste the headline when sharing either. On most platforms, the headline and lead image are populated into the final post when the link is pasted in, providing viewers with an easy way to click and access the actual article. If unsure what to say when drafting your post, start with your quote or insight before encouraging the viewer to read the entire piece. For example: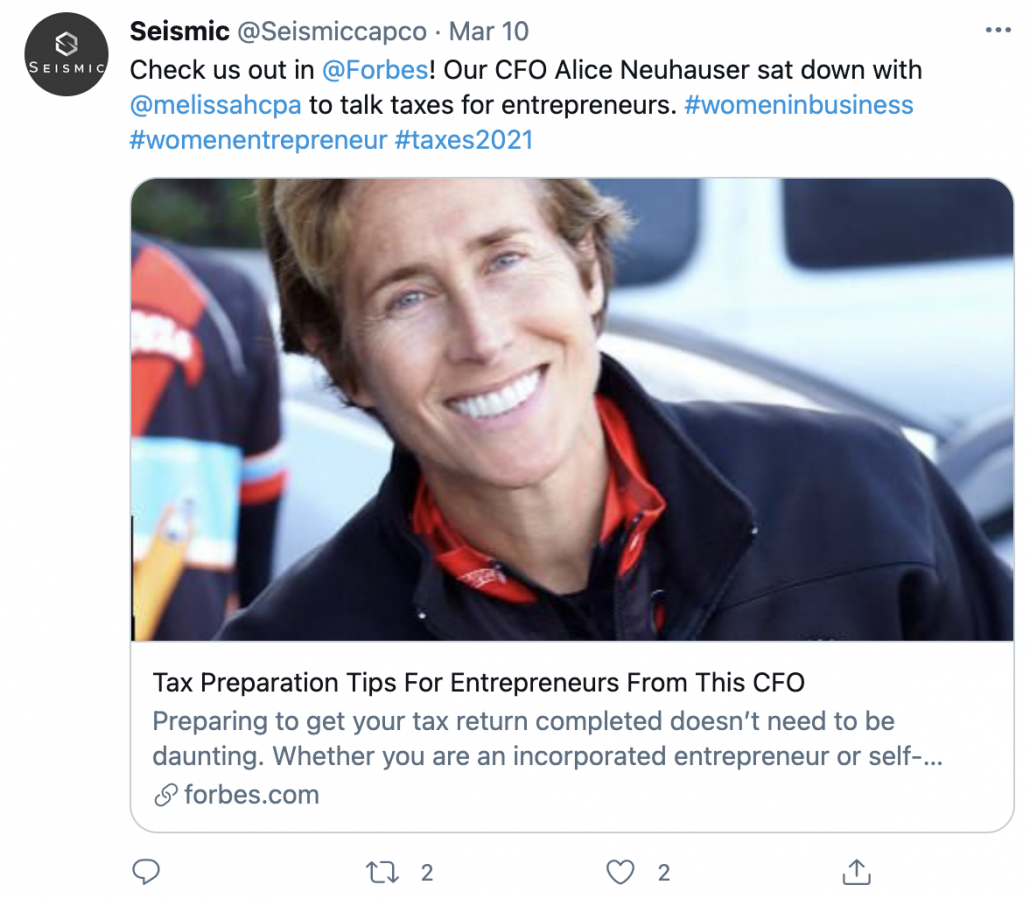 And don't forget to tag the publication and the reporter! Journalists love when people help share their work, and that bit of goodwill can go a long way in developing relationships. Choosing relevant hashtags to include can also increase visibility across targeted audiences.
Email Marketing
If email marketing is part of your organization's corporate communications strategy, then an earned media opportunity is perfect content for your newsletter or some timely outreach to prospects or partners. If email marketing isn't part of your organization's communication strategy, then an earned media opportunity is a great way to get a newsletter off the ground! Whether it's a quick note shared internally with employees or a full blast sent externally to prospective customers, seeing a brand you associate with in the media generates excitement and boosts awareness. Also, considering recipients have the opportunity to opt in and out of newsletters, you can count on them being generally well-read by a devoted audience, making your insight hold even more weight. 
Aside from showing off your newfound coverage, media clips also make for great soft sells for other action items. If your new platform or product was featured, adding a call to action within the email that says "Want to learn more about our XYZ product? Click here" is an easy way to push web traffic your way – which you can track through the analytics of your email marketing provider.
Website
When a potential customer is checking out your company for the first time, you can bet that one of the first places they'll go is your website. So why wouldn't you want them to see your product features and insights in comprehensive industry publications and well regarded newspapers? The media can provide your organization with the third party validation that consumers expect. And considering the intuitiveness and simplification of today's website management systems, there's no reason not to quickly pop your media placements into an "In the News" section on your website. Outbound links also help with SEO!
There's no single approach to making sure the masses see your name and insight in the media's bold headlines and between their page margins. Each organization should map out an approach that works for them and their team, but regardless of the overall strategy, incorporating the tactics above into your media relations efforts will ensure your message spreads far and wide. 
Want to talk about how to supercharge your media relations strategy? Let's talk!